Fishbowl Kid is an uplifting interactive story about coping with depression. A variety of minigames present metaphors and strategies for mental health management.
Players will:
Follow Mason's journey as he seeks psychiatric help for the first time.

Delve into Mason's inner imaginative world as he tries to reconnect with the one around him.

Interact with the story through arranging, drawing , filling, folding, rotating, and revealing.

Encounter a colorful cast of characters.

Discover 20 engaging chapters across 6 acts.

Feast on beautifully rendered environments.
Fishbowl Kid started as a desire to visualize a dream that Jared (the designer of the game) had in which he felt the happiness around him in an amusement park was inaccessible because of a condition represented by a permanent bubble around his head. Jared contacted Andrea (the artist of the game) spring 2020 to help bring this dream to life in the form of a dynamic art scene. Soon, with the support of a writing group in Incheon, South Korea, the game transformed into a full story informed by the lessons that Jared and Andrea have learned about coping strategies for depression and anxiety and the not-so-straightforward journey for medical and therapy solutions.
Fishbowl Kid has made appearances at 2023 Seattle Indies Expo as well as the Korean newspaper Hankook Ilbo.
Andrea grew up with a paintbrush in hand, continually expanding her craft into the digital realm. Her business, Andrea Aguirre's Art, is full of pretty, nerdy creations and has recently been given permission to do licensed art for famous literary authors Sarah J Moss & Rebecca Yarros.
Jared creates games with a personal touch. Until recently, he was a professor of Computer Game Design at George Mason University.
Jared studied under Brenda Romero in the Games & Playable Media master's program from the University of California Santa Cruz. He is inspired by her Mechanic is the Message philosophy to marry gameplay and story. Each interaction in Fishbowl Kid is informed by personal battles with depression and anxiety.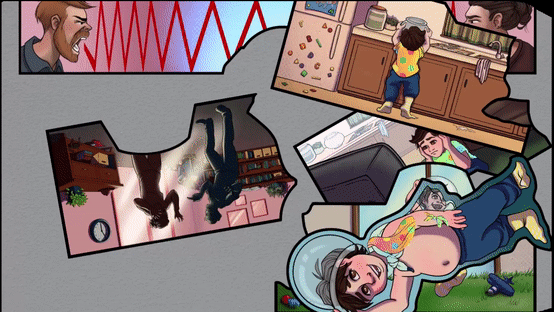 Press Permissions: Information and media presented on this page are intended for reproduction and inclusion in press materials, and permission is granted from the Hoo Cares team to be utilized as such.